Pastor Anthony C. Cobbs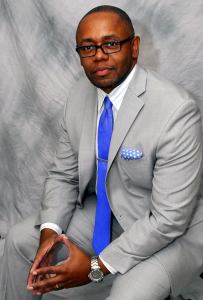 Pastor Cobbs is a native of Omaha, Nebraska. He worshiped and served diligently at the Salem Baptist Church under the leadership of Rev. J.C. Wade and Dr. Maurice Watson. Dr. Watson licensed, trained and ordained Anthony for ministry. Dr. Watson instilled in Anthony a desire to preach the word with the highest integrity in a plain, relevant manner.
In Nebraska, Pastor Cobbs also had an extensive ministry to youth and families. He served as a Family Teacher at Boy's Town, organized North Omaha Young Life (an evangelical ministry to teenagers) and worked as Teen Director for the YMCA. He has shared the gospel with thousands of young people and their families. Because of his ability to connect with young people, Rev. Kenneth Allen and the Mount Zion First Baptist Church in San Antonio, Texas recruited Pastor Cobbs in 2003 to serve as the Minister of Youth and Missions. Pastor Cobbs' ministry began to blossom in many ways as the city of San Antonio recognized the gifts of this servant of God. He has since served as a senior pastor, church planter, and teacher. He is a highly sought after advisor, trainer and speaker and an authority in urban ministry and youth culture. Pastor Cobbs is contracted with the Baptist General Convention of Texas African American Ministries to serve over 60 churches in Southwestern Texas. He launched Breakthrough Ministry Consulting to help urban pastors and ministry leaders realize vision for the kingdom. He is a Doctoral candidate at Creighton University and a proud member of Kappa Alpha Psi Fraternity, Inc.
Pastor Cobbs lives in sunny San Antonio with his wife Audrey, their children, and his dog Jackson.
Education
Bachelor of Science in Psychology and Biblical Studies, Grace University
Master of Christian Ministry, Wayland Baptist University
Doctorate of Education (Ed.D) in Leadership, Creighton University (2015)
Ministry Highlights
Licensed and ordained by Salem Baptist Church, Omaha, Nebraska
Received Abide Network Community Service Award for Youth Work 2001
Graduate of the San Antonio Black Chamber of Commerce African American Leadership Institute 2003
Secretary, Baptist Ministers Union of San Antonio 2004-2008
Dean of Baptist Ministers Union Citywide Institute, 2009-2011
Received Jack and Jill of America, Inc. Community Service Award for Youth Work 2008
Recipient of First Baptist Church Outstanding Religion Student Award, Wayland Baptist University, 2010
Listed in 2011 "Who's Who" of Black San Antonio publication
Trained in coaching through Coach U
Trained in church consulting by Dr. Chuck Lawless and the Society of Church Consulting